Hiring Nonresident Aliens (NRA)
Hiring Nonresident Aliens (NRA)
Definition and Identification
A nonresident alien (NRA) does not have U.S. citizenship or permanent residency. New employee paperwork for permanent residents is completed in the hiring department.
There are three ways to identify a student/scholar's NRA status if s/he does not self-disclose:
S/he checks the second or fourth box in the attestation portion of the I-9 form
S/he does not have a Social Security number
S/he has a Social Security card that reads "Valid For Work Only with DHS Authorization" or "Valid For Work Only With INS Authorization"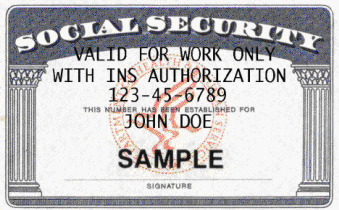 Completing NRA Paperwork
New employee paperwork (including E-Verify and SUNE) for all nonresident aliens must be completed by HR. Contact an HR Expert for an appointment.
NRAs cannot be paid unless they meet with an HR Expert to complete new employee paperwork. Hiring departments should set up an appointment and ensure that the student/scholar arrives with the following information:
Applicant's full name
Social Security number if available
Applicant's email address (uark.edu account is not required)
Hiring department (not the department in which the student is majoring)
Country of tax residency (typically citizenship country)
Visa type (F-1, J-1, etc.)
U.S.C.I.S. form appropriate for visa (I-20, I-797, or DS-2019); refer to the Office of International Students and Scholars to identify the appropriate form
Stipend amount or hourly rate for income estimate
The nonresident alien HR Expert will complete the W-4, 1-9 and direct deposit forms; perform E-Verify processes; enter new employee information in Workday; and provide the NRA with pay simulation and an income estimate. Refer to the IRS website to learn more about U.S. taxes for each immigration status.
NRA Social Security Number
Nonresident aliens are not required to have a Social Security number (SSN) to begin work. Because the process to receive a SSN can take four to eight weeks and the Fair Labor Standards Act (FLSA) requires that all workers be paid, HR issues a temporary SSN, valid for 60 days, to NRAs during the initial appointment. When the permanent card arrives, the NRA must present it at HR for copying and return the temporary SSN.
Download the Social Security Application Packet for NRAs.