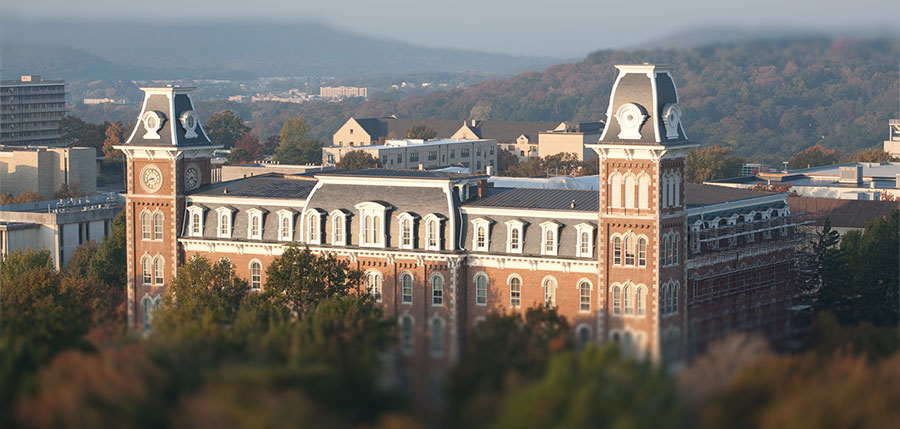 Our Mission
Provide excellent operational and strategic human resources services aimed at supporting the success of the University of Arkansas.
We are confident that as you
learn more about the
University of Arkansas, you
will discover that you can
Live Better in Arkansas.
The University of Arkansas recognizes our employees as our greatest asset. Find out how you can contribute to our community by searching careers. Discover how Human Resources guides and supports employees by advocating for a healthy work/life balance and providing excellent benefits. Explore what makes the University of Arkansas, Fayetteville, and Northwest Arkansas a top-ranked place to work and live.
HR QuickFind
| Title | Keywords |
| --- | --- |
| Retiree Privileges | Benefits |
| HR News 2017 | News |
| Retirement Benefits | 403b, 403(b), 457b, 457(b), pension, apers, invest, investment, vested, vesting, vest, stocks, defined contribution plan, defined benefit plan, fidelity, tiaa-cref, tiaacreff, tiaa, cref Benefits |
| Employee Assistance Program | Benefits |
| Auto and Home Life | Benefits |
| HR News 2016 | News |
| HR News 2018 | News |
| Supervisor Development Certificate | News |
| PeopleAdmin Training: Position Descriptions! | News |
| Are you prepared for a Violent Threat On Campus?! | News |
| Supervisor Development Program | Supervisor Development Program News |
| Dental Coverage | Benefits |
| Changes to Healthcare Benefits | Benefits |
| Tuition Benefits | discount, scholarship, courses, waiver, treasurer Benefits |
| Open Enrollment for UA Benefits Plans 11/1/2018 - 11/30/2018 | Benefits |
| Legal Protection | legal, protection Benefits |
| Employee Leave | Benefits |
| Healthcare Benefits | Benefits |
| Retiree Insurance | Benefits |
| COBRA Rights | Benefits |
| Medical Claims and Appeals | Benefits |
| Medical Coverage | health insurance, classic plan, point of service plan, clc, pos, wellness, onlife, UMR, MedImpact, prescription, pharmacy, premiums, tobacco, disease, weight, nutrition counseling, management, cobra Benefits |
| Vision Insurance | Benefits |
| New Employee Orientation | News |
| Sign Up for Electronic W-2 | W-2 electronic News |
| Nonresident Information | Working at the University |
| Supervisor Development Program | Working at the University |
| Professional Development and Training | Working at the University |
| Payroll Calendar | Working at the University |
| Student and Scholar Nonresident Aliens | Working at the University |
| Payments to Nonresident Aliens | Working at the University |
| Faculty/Staff Training Videos and Presentations | Working at the University |
| Employment Verification | Working at the University |
| Leaving the University | Working at the University |
| Filing Nonresident Taxes | Working at the University |
| Monthly Time Sheets | Working at the University |
| Getting Paid | Working at the University |
| Work/Life Balance | Working at the University |
| New Employee Orientation | Working at the University |
| New Employee Benefits Enrollment | Working at the University |
| New Employees | Working at the University |
| Employee Service Awards | Working at the University |
| Diversity Certificate Program | Working at the University |
| Connect with HR | Working at the University |
| Employee Handbooks | Absence, Advance, Affirmative, Alcohol, Annual, Appointed, Appointment, Arrests, Assault, Assignment, Assistance, Athletics, Attendance, Benefits, Bereavement, Bone, Catastrophic, Classified, Coast Guard, Code, Compensation, Complaint, Conduct, Confidential information, Conflicts, Convictions, Courses, Court, Criminal, Definitions, Demotions, Direct deposit, Disaster, Disclosure, Donation, Drug-Free, Early retirement, Educational, Employment policy policies, Environmental health and safety, Equal employment opportunity, Ethical, Exempt, Expenses, Extra help, Faculty, Flexible, Fraud, Fundraising, Garnishments, Gifts, Governance, Grievance, Handbook, Harassment, Holidays, Hourly, Identification, Inclement, Informal, Interest, Jury Duty, Keys, Lateral, Leave, Legislators, Liens, Logos, Marrow, Maternity, Medical, Merit, Military, Nepotism, Non-classified, Non-exempt, Offenders, Officers, Officials, Organ, Overpayments, Overtime, Patrol, Pay, Payments, Payroll, Performance, Periods, Policies, Political, Procedures, Professional, Promotions, Protection, Razorbuck$, Re-employment, Rehires, Reimbursement, Relations, Relatives, Reporting, Resignation, Restrictions, Retirement, Retrenchment, Salary, Sexual, Sharing, Sick, Smoking, Social, Solicitation, Spouses, Staff, Termination, Transfers, Travel, Unemployment, Unpaid, Violence, Voting, Weapons, Weather, Whistleblower Working at the University |
| Diversity Awards Program | Working at the University |
| Diversity | Working at the University |
| Catastrophic Leave | Benefits |
| Family and Medical Leave Act | Benefits |
| Live Better in Arkansas | Careers |
| Using PeopleAdmin 7 | Careers |
| Relocation Resources | Careers |
| Dual Career Resources | Careers |
| Apply for RazorTemps | Careers |
| Create a Position Description in PeopleAdmin | Careers |
| Reference Checks | Careers |
| Background Checks | Careers |
| Request a RazorTemp | Careers |
| RazorTemps | Careers |
| Hiring Employees | Careers |
| Applying for Employment | Careers |
| Performing an Evaluation in PeopleAdmin | Careers |
| Supervising Employees | Careers |
| Child Labor | Careers |
| Provisional Positions | Careers |
| Contact HR | Contact HR |
| Non-Classified Salary Increases | Careers |
| Federal and State Posters | Careers |
| Changes to a Position | Careers |
| Merit Eligibility Dates | Careers |
| Appointed Classification/Pay Grid | Careers |
| Hourly Classification/Pay Grid | Careers |
| Lawful Inquiries for Interviews | Careers |
| Candidate Interviews | Careers |
| Catastrophic Care Benefits | Benefits |
| Benefits Overview | Benefits |
| Flexible Spending Accounts and Health Savings Accounts | Benefits |
| Discounts | Benefits |
| Disability Insurance | Benefits |
| Accidental Death and Dismemberment Insurance | Benefits |
| Travel Assistance | Benefits |
| Child and Elder Care | Benefits |
| Critical Illness Insurance | Benefits |
| Life Insurance | Benefits |
| Identity Theft Protection | Identity Theft Benefits |
| Partners by Department | HR Directory |
| Sample Interview Questions | Careers |
| Schedule A | Careers |
| Position Posting and Recruitment | Careers |
| New Employee Paperwork | Careers |
| Hiring Nonresident Aliens (NRA) | Careers |
| Hiring Proposals and Offers | Careers |
| HR Directory | HR Directory |
| HR Directory | HR Directory |
| Partners by HR Staff | HR Directory |
| Forms | Forms |
| Report Missing Information | Report Missing Information |
Can't find it? Tell us
HR News 2018
HR News 2017
HR Training and Events