Workday Resources Page
The University of Arkansas is shifting from BASIS and PeopleAdmin to Workday beginning July 7 for managing employee pay, benefits, leave requests, expenses, employee evaluations, recruitment and more. This is part of a larger initiative within the entire U of A System called Project One. With this transition comes some changes in employee processes, like leave requests and in some cases payroll schedules. Online training, tips and guides are available at workday.uark.edu.
Quick Fact Sheets:
Employee Self-Service (ESS)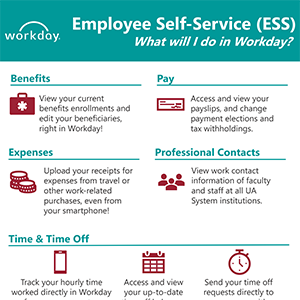 What's in it for Faculty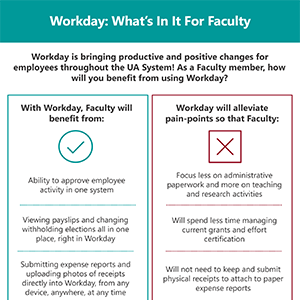 Workday for Managers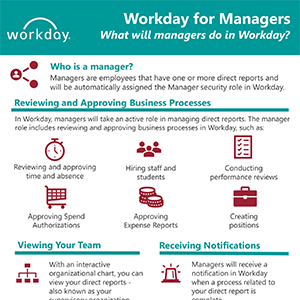 What changes for me as a University of Arkansas employee?
Beginning July 7, employees will view paycheck amounts and details, change payment elections, record hours worked (for those not using TimeClock Plus), and more in Workday. Leave requests and reporting, benefit changes and expense management will also be shifted to Workday.
The transition brings some changes in payroll and personnel processes as well.
All Employees
Annual employee evaluations will cover the previous calendar year and be administered through Workday.
Benefits enrollment, selections and beneficiaries will be managed and displayed through Workday.
Access to pay slips, direct deposit selections, payment elections and tax withholding will be managed through Workday.
Retirement benefits can be split between vendors, but only one vendor can be selected per pay period. Employees who want to split retirement contributions between vendors will have to alternate vendors from month to month through Workday.
Leave and sick time tracking, reporting, requests and approvals, as well as expense and travel reporting and approvals, will all be done through Workday.
A daily COVID-19 Employee Health Self-Assessment will be required for all U of A employees whether working remotely or on campus beginning July 7. The online assessment will be done through the Workday portal and will be required daily and monitored by HR to certify that employees have checked themselves for possible early symptoms of COVID-19 before beginning work.
Hourly Employees
Hourly time tracking will be done through Workday for all hourly workers except those who use TimeClock Plus for time tracking.
Pay schedules shift to the 15th and last day of the month beginning in July.
Overtime pay will be paid in the pay period in which it is earned.
Classified Employees
Overtime pay will be paid in the payroll month that it is earned.
Career Service Awards
Awards for service will be paid in the payroll of the employees' anniversary month.
Nine-Month Faculty
Pro-rated partial salary payments will be paid in August and May, which is a change from receiving half-month pay in August and half- month pay in May.
Benefit deductions will still be taken from the May salary payment.